OtherZine Shoots the Shit with La Colectiva – Read the Interview
We are thrilled to be featured in issue 28 of Otherzine.
OtherZine is the semi-annual 'zine of Other Cinema, the long-standing bastion of experimental film, video, and performance in San Francisco's Mission District.
Jenna Grant, a cultural anthropologist based in Amsterdam, plugged in with the Colectiva for a Skype interview this winter. Thank you Jenna and thank you to OtherZine co-editor Molly Hankwitz for inviting us to participate in this issue.
Click to read the interview.
(We will soon be posting transcript outtakes).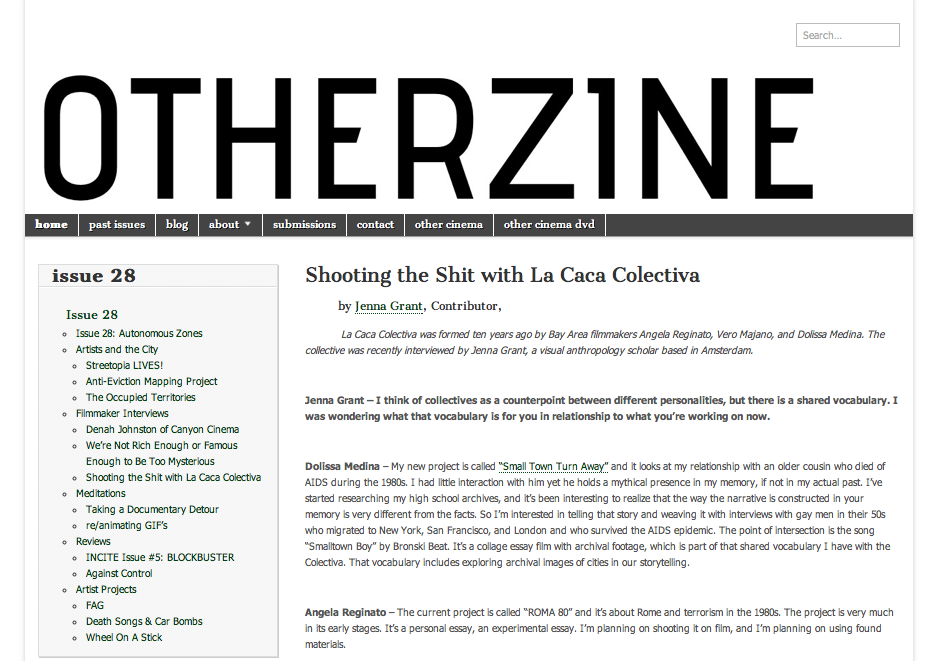 OtherZine Mission Statement:
Whether avant-garde or engagé, our emphasis is on the radical subjectivities and sub-cultural sensibilities that find expression in marginalized cinematic genres, media-archaeology efforts, the intersection between art, technology and social practice, as well as contemporary intermedia hybrids.
OtherZine welcomes cinema-related writings and artist projects that support these endeavors and other experiments in media-culture essays, articles, interviews, reviews (art, books, media, events), rants, videos, illustrations, images, and other articulated brainstorms!