Group show at Craig Baldwin's Other Cinema – A Roundup Report
Califas Visions:  Work by the Caca Colectiva
Click here to watch and listen to program excerpts.
DATE: Saturday, Dec. 6, 2014 8:30 pm
VENUE: Other Cinema, Artist Television Access, 992 Valencia St. San Francisco
ADMISSION: $7
(proceeds support Craig Baldwin's Other Cinema and the maintenance of the Caca Colectiva media archive)
This program presented original work from the Caca Colectiva made using found footage from our collection and local archives. Thanks to Craig Baldwin for giving us our first group show.
Films:
Polvo (Dust) – (Angela Reginato, USA/Mexico, 2012)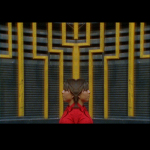 Polvo is a 28-minute collage essay film that chronicles the real-life disappearance of the son of a French woman and her American husband from Mexico City during the politically-charged late 1970s. 
---

The Crow Furnace (Dolissa Medina, USA, 2015)
A 30-minute narrative poem essay about San Francisco, urban displacement, and the spectacle of loss. 
---
Performance:
"Remember Los Siete" A work-in-progress by Vero Majano
Vero Majano presents chapters from her work-in-progress multi-media project about San Francisco's Mission District in the 1970s.
Plus +++ Pre-show and intermission "Caca Portrait" loops:
Angela Reginato screens three 8mm films, one for each member of the colectiva. Each "portrait" is projected in 16mm and accompanied by a soundtrack specifically chosen by each subject. These portraits are from her ongoing 8mm series "Mirame De Frente," filmed within the constraint of each roll they encapsulate something dear to her about each person filmed.
Running Time: 90 minutes
---